On-page SEO is one of the finest methods to increase organic traffic on your website. On-page SEO includes optimizing your headlines, HTML tags (title, meta, and header), and images along with information content. If we ask you "Do you want to grow your website traffic?", then what would you say? Of course, your answer will be yes. 
So let it be clear that the results rely on the efforts you put in. If you focus on certain factors that are core of on-page SEO services, you are going to take your website to top-notch searches for sure. Digging deeper into the article below will let you know the on-page essentials that are necessary to quench the ranking thirst of any website such as yours!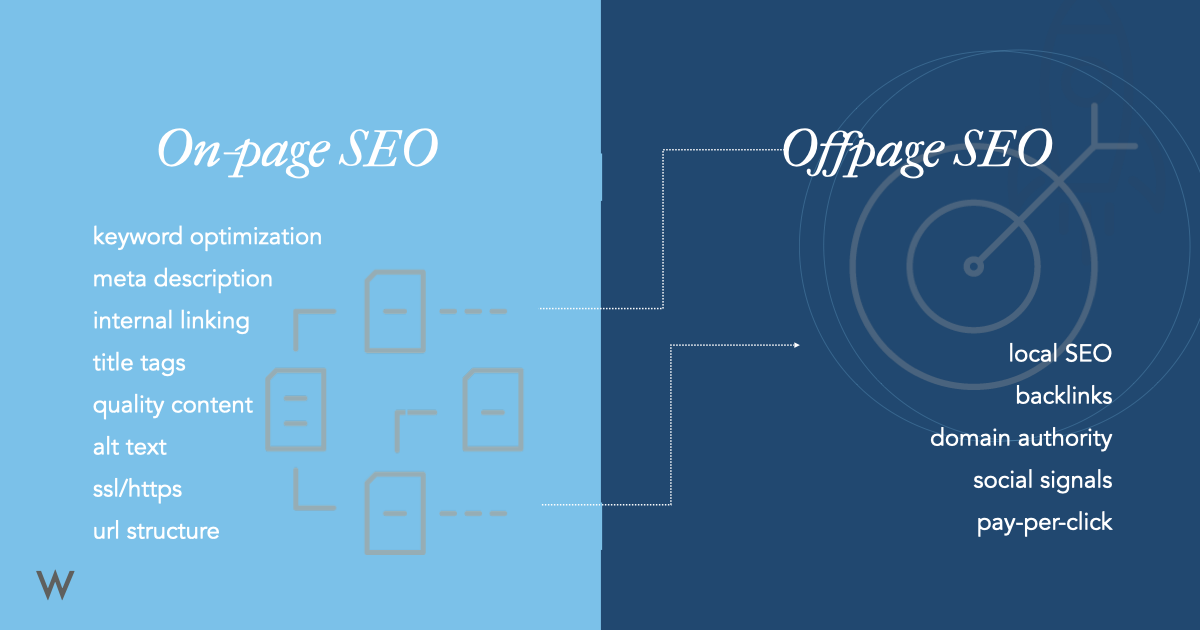 What Is SEO?
SEO is an acronym for Search Engine Optimization, a technique that is used to improve the ranking of a website in search engines such as Google, Yandex, Firefox, Opera, Microsoft Edge, etc.
SEO is critical is a process to optimize the website's technical configuration, along with the relevant website content. The main purpose of SEO is to make the ranking of the website better in a search engine, this is essential to increase the organic traffic and hence the revenues.
On-Page SEO:
It corresponds to the optimization of certain elements that assist in boosting your site's appearance. On-page and off-page SEO are essential to rank your website at a better ranking on the search engine. The on-page SEO involves the factors that are in your control like the keyword search and their proper insertion and internal linking to the other page. Off-page SEO involves the strategies involved in promoting the website around the web.
Importance:
On-page SEO lets Google identify which page of your site is most relevant to a particular keyword any user is searching for. And this is the only factor that helps to rank your site and bring new traffic to it.  
The major on-page SEO services include the following:
Website Content:
When it comes to the on-page SEO services of a website, the content is the element that matters at most. You could consider it as the heart of your site that drives traffic to your page and let you earn higher revenues. The content of a website must be according to the demand of your targeted public. 
Moreover, people search different keywords and queries for the content they need. And this is what you need to add to your on-page content. Purchase premium subscriptions of various keyword research tools just like Ahreffs and Semrush and search for the targeted queries your public type on Google. Now use these keywords in your content in a generic way, thereby retaining their intention.
Also, keep in touch with the Content Updates by Google that would let you write content according to the latest trends Google has revolutionized.
HTML Elements:
The elements in the source code are referred to as HTML elements. These further include:
Title of Page:
As you are better aware of the fact that a visitor instantly gets an idea of your webpage by looking at your page title. That is why you must try to make it crispy and catchy enough so that both people and Google algorithms find it a perfect match to rank in top positions. For instance, you may write the meta title as follows:
<title>TDEE Calculator – Let's Calculate Your Energy Expenditure<\title>
You must use the primary keyword in your page title and its intent should be defined simply. This will let the search engine prefer your page to be ranked. 
Content Headers:
Content headers involve heading subtitles that you use in your content to distinguish different segments of it. It helps search engines to better predict the major difference among the different kinds of information you have provided in the article. 
For example:
<h2>What Is a Unit Circle?<\h2>
Meta Descriptions:
A meta description is a summary of the content that tells the user what the particular page is about. But it does not mean that you may consider it as the official factor for page ranking. There can be any other line in content as well that search engine finds more relevant and rank page against it. 

Rules to Make Meta Descriptions More Catchy & Relevant:
If you are providing on-page SEO services, keep in mind that:
Keep it under a character count of 160

Never use alphanumeric words in it

Try using a complete focus or long tail keywords 

It must be good enough to compel users to click on your page
Image Alt-Text:
In on-page SEO services, you also need to optimize your images. Google ranks multiple images against the same keyword. And if you are adding a picture to your content, it must be packed with relevant information. Moreover, its alt-text must be comparable to those pages the images of which are ranking. It will let your traffic search for your site by clicking on images as well. 
Page URLs:
Your page URL contains crucial information about subdomains, blogs, or any other internal linked page of your site. While creating a URL, remember that it should be easy to read for both search engines and readers. While organising the URL, keep in mind that:
It contains one o a couple of important keywords

Use HTTP (HyperText Transfer Protocol)

Try removing any extra and unnecessary words
Internal Linking:
If your website is divided into various pages that are also related to each other via different dimensions, then internal linking is what you need to play with. The main motive behind internal linking is to make worth of your website. Also, it lets your public land on other pages where they get more relevant stuff for the query they search for. This in all increases the user experience of your website as a whole.
Mobile Responsiveness:
According to modern trends, Google is ranking those sites that are mobile-friendly. It means that your site must be fast enough to provide results on the mobile phone as it does on PCs. Keeping in view the modifications, you need to buy a domain and hosting that can provide instant responses on both computers and mobiles. And in case you are not sure about your site's performance on mobiles, you may check it via various Google mobile-friendly tests. 
Ultimate Speed of Site:
Page speed is the most important factor to be considered while doing on-page SEO. While you design a site, it must be speedy enough to load quickly before the user gets bored and moves to the next one. Every other person searching for something on the internet is doing so to save his/her time. And if your website is light enough to load its all pages in milliseconds, it is going to be a factor that will aid in taking your site to the top positions.
Author Bio:
John Daneil is an accomplished writer; she has written an article on digital marketing and the role of on-page and off-page SEO for ranking your website in search engines like Google, Opera, etc.