Search engine marketing (SEM) – is an Internet marketing strategy which promotes the web pages/ websites in web search engine result pages (SERPs), primarily through paid promotions. SEM is the method of maximizing the website traffic by buying advertisements on search engines. It promotes the targeted leads and maximizes the brand develops awareness and gives tremendous return on investment (ROI).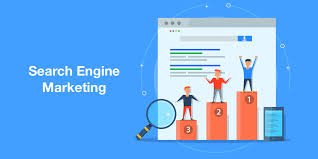 Here Social media marketing (SMM) is a kind of internet marketing method which uses social networking sites as a performing platform for the promoting the products and services of the firm. We need create a buzz by uploading premium content on pioneer social media platform such as FaceBook, Twitter, Instagram, LinkedIn, and etc. as more and more people constantly involved in using social media sites, SMM generates a greater amount of traffic in website. It involves a secured planning network for long term actualization.
Content marketing is used to attract our targeted audience and drive profitable client action. We make sure that our content is valuable, relevant, consistent and worthwhile that can resolve the pain points and is everlasting. Our focus is on mobile content and marketing automation. We create various types of content such as blog posts, infographics, and videos.
By maintaining Email marketing which can serve to cultivate relationships with potential customers/clients; and keep our current clients updated about our products and services, and to offer coupons to inspire their loyalty. The email marketing software helps us to track return on investment (ROI); as well as for analytics such as click-through rates (CTR), open rates, bounce rates, and conversions. Marketing automation is used to keep our content consistent across all channels. We develop stunning creatives combined with compelling content. Integrating all our systems to marketing automation platforms gives us the best possible outcome. It also enables us to monitor our website and improvise based on the results