Digital Scholar's 3 Months Digital Marketing Course Review
Without a doubt, the best way to get started in digital marketing is to take up a highly reputed, industry-recognized course.
In taking up a digital marketing course, you will not only obtain the vital knowledge and abilities you need for continued success in your area, but you will also receive a certification that will authenticate this level of knowledge and expertise to potential employers on completion of the right digital marketing course. Yes, you will be in high demand as a digital marketer.
But how do you decide which digital marketing course is the right fit for you? 
Although everyone is unique and has a different learning pace and interests, everyone must clearly understand the fundamentals to thrive in digital marketing. A good course will provide you with everything you need to get your career off to the best possible start.
Digital Marketing's Disciplines
As time goes on, you'll find yourself gravitating toward a specific digital marketing specialization. A good digital marketing course will focus on the following fundamentals: 
Digital marketing's ever-changing position in today's professional world

Search Engine Optimization (SEO)

Marketing on social media

Inbound marketing and content

Marketing on the go

Analytics on the internet
You'll be able to lay solid foundations for a successful career in digital marketing by learning the practical basics of these methods, concepts, and disciplines; you'll also be able to make a confident decision on which field you'd like to focus on soon by learning the practical basics of these methods, concepts, and disciplines.
The Shift from Traditional Marketing to Digital Marketing:  
If your brand isn't heavily focused on Digital at this stage, you're falling behind the competition. Here are a few reasons why the dynamic change from traditional to digital marketing occurred and why you cannot ignore it.
It's where customers spend the majority of their time.

It is less expensive than other forms of advertising.

It is more successful in terms of reaching out to customers.

It generates a more significant return on investment.

It allows for more precise targeting.
What are the characteristics of a good digital marketing course?
The top digital marketing academy will provide you with the confidence, knowledge, and skillset you need to advance your career in the digital marketing domain.
While there are many courses available, some of which are far superior to others, any curriculum worth its salt will be balanced, interactive, motivating and engaging and provide tips and tricks that you can apply in real-world situations. Interactive material captures attention more efficiently than static content, according to 81% of marketers, and this should apply to a digital marketing course.
digital marketing training  is a good investment that you may make regardless of your age or job category.
Digital Scholar's Digital Marketing Course in Chennai: A Review
Digital Scholar is a well-known digital marketing institute, and its course is the top digital marketing course in Chennai. Sorav Jain, the company's creator, is a renowned digital marketer, and a global Instagram influencer. They conduct both offline and online courses.
Today, we'll look at the online and offline digital marketing programs Digital Scholar offers.
Introduction to Digital Scholar:
Digital Scholar, a spin-off of echoVME, was born in Chennai in 2019. Sorav Jain, a well-known digital marketer in the field, has created an agency-based digital marketing institute. Digital Scholar's 3 Months Digital Marketing program caters to customized training for corporations, entrepreneurs, and students. 
The agency learning model is used at Digital Scholar's digital marketing program, where students learn on an individual level yet perform as a group or team.
The institute's curriculum combines classroom instruction with on-the-job training to ensure that all students are employable. They want to create digital marketing plans tailored to specific industrial verticals to benefit niche expertise. 
It is the appropriate place for those looking for a career change or a fresher hoping to break into the digital marketing business to gain a solid foundation in all digital marketing concepts and learn to work in an agency-styled atmosphere so that they can fit into their job responsibilities right away. Individuals who complete the Digital Scholar's 3 Months digital marketing program can also work as freelancers.
Founder of Digital Scholar & CEO of echoVME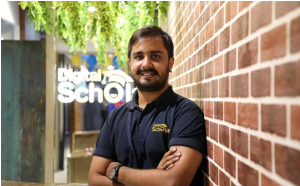 The company's founder, Sorav Jain, is a well-known digital marketer and a global Instagram influencer. His background speaks clearly about the calibre of his training. All you need is a session with him to get started on your Digital Marketing adventure!
Sorav Jain is a branding specialist, firm owner, and trainer who has worked on award-winning campaigns. With over a decade of experience in his agency, he recognized specialized a disconnect between graduate skills and the digital marketing industry's requirements. 
Sorav Jain says, "Starting an institute like Digital Scholar to bridge the graduate-employee skills gap was the most logical step for me as a professional consultant and trainer."
In addition, Sorav Jain has done it all, from winning honors to keynote speakers to writing books.
CoFounder of Digital Scholar: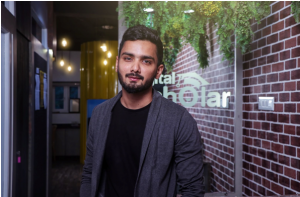 Rishi Jain is the co-founder of Digital Scholar and is an expert in building landing pages, Quora, and automation. Since co-founding Digital Scholar, he has trained more than 10,000 students on various projects and helped them achieve their Digital goals.
Digital Scholar offers the following courses:
Digital Scholar is a leading digital marketing training institute that only offers digital marketing courses. The three-month flagship course and the online digital marketing course are available.
3 Months Digital Marketing Course: 
Eligibility Criteria: 
The only requirement is that you be at least 18 years old, have completed 10+2 or equivalent, and have basic computer skills and understanding of the English language.
Overview of the Course: 
Digital Scholar's 3 months digital marketing program focuses on essential digital marketing abilities. Students are exposed to the latest industry trends and receive hands-on training, allowing them to graduate as skilled digital marketers.
Program Duration: 
The course is a three-month rigorous training program. As a result, there is some flexibility in scheduling a few classes as per convenient days. Monday, Wednesday, and Friday are the days for the weekday batches. Saturday and Sunday are the days for the weekend batch. Hence, the classes are conducted only on Saturday and Sunday. Due to Pandemic, Digital Scholar Courses are shifted to Online.
A sneak peek at training instructors: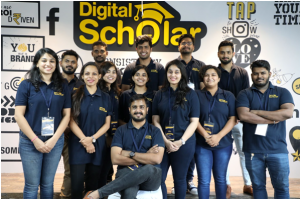 Digital Scholar provides interactive live virtual classes that promote teamwork and participation. Interaction between trainees and students is expected. You can also get rapid answers to any queries and have a fun learning experience in our virtual classrooms.
Trainees assist students at every step of the way, ensuring that they fully comprehend all of the chapters taught in a given session. The live interactive training provides a demanding, stimulating, and enriching learning environment.
Syllabus:
The flagship course is divided into 12 primary modules, each of which provides participants with a thorough understanding of the subject. Individual subject matter experts guide participants through their modules to gain the most in-depth knowledge possible. The modules are as follows:
What skills will you learn?
➜ Search Engine Marketing
➜ Email Marketing
➜ Automation
➜ Sales Funnels
➜ LinkedIn Marketing
➜ Social Media Management
➜ Personal Branding
➜ Content Writing
➜ WordPress Management
➜ Search Engine Optimization
➜ Facebook & Instagram Ads
➜ Instagram Influencer Mastery
➜ Agency Management
➜ International freelancing
In addition, they offer three specialized modules:
✔️ E-Commerce Marketing
✔️ Making money online
✔️ Copywriting
Certifications:
Participants receive the Digital Scholar Course Completion Certificate after completing the course. echoVME Digital offers internships to exceptional candidates that demonstrate brilliance and consistency. Upon completing the program, such participants will receive an internship certificate from echoVME.
Career Assistance:
Because Digital Scholar has industry partners through echoVME, participants have a great chance to acquire a job. They have a network of over 100 companies due to their agency experience.
Final Thoughts on the Digital Scholar Program: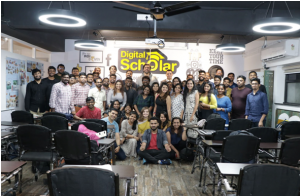 The Digital Scholar's 3 Months Digital Marketing program is distinguished by its agency-styled learning. Participants will learn how to pitch to clients and persuade them to join their team. Then there are the group assignments, in which everyone knows to work together to build plans and execute digital marketing campaigns.
The following are some of the reasons why the Digital Scholar's digital marketing course is successful and is a right fit for you:
A curriculum for a digital marketing course that is well-organized

Projects in progress

Experience with ad agencies

Expert advice and even guest lectures from well-known digital marketers are available.

Finally, it is the placement aid that counts.
This digital marketing institute has a lot of good placement partners, so eligible individuals can expect to get placed in top-tier organizations.
We hope you find this material beneficial, and it has answered all of your questions regarding how to choose the right institute to pursue a career in digital marketing.
For free digital marketing training, go to their website https://digitalscholar.in or phone +91 9169231231 to speak with an admissions adviser.
Learn About: The Best Free SEO Chrome Extensions