We have entered 2020, and it's time to leave behind old marketing techniques/strategies and opt new. There is a abundant amount of innovation happening around the world. From artificial intelligence(AI) in customer service to celebrities/influencers ruling over social media, a lot has changed in the past years. Digital marketing campaigns now spreading around different channels, tools, and processes.
In this process some strategies might remain partially the similar, they will get a facelift in the year 2020. If you are looking to take your marketing to the next level in 2020, we've got some tips for you.
Here are some of the best ways to get more out of your marketing campaigns this year:
1. Create more video content
Videos have transformed the content marketing landscape. There is a change in the way how brands promote their products and creating new content. And video content is also becoming more popular. Wondering why?
WHITEPAPER
Because people like watching videos.
In fact, 72% of people said that they would like to watch videos to learn about a product or service.
If you haven't been using video content, you're losing out on a lot of opportunities to grow your brand. Since there a great evolution of social media platforms like tweeter, Instagram,youtube, and Facebook, the video content game has changed drastically. Video content is an extraordinary tool to increase the sale of brand and awareness and drive engagement in developing the firm.
2. Focus on personalization:
Most content marketers believe that when a prospect customer engages with their brand and makes a purchase, it's a win.
But what's next?
A customer journey starts right from when a target customer engages with your brand and it continues through conversion. But it also includes providing customer support and elevating their buyers' journey to turn them into cheerleaders of your brand.
So, it is essential to reach out to your audience and provide valuable services that are not solely revenue-centric. 76% of consumers believe that it's easy to switch to a different brand to find an experience that will match their expectations.
So, how can you provide a memorable experience to your customers?
That's where personalization comes into play. It can improve the customer experience/satisfaction you deliver; at the same time it can also boost your sales.
Tools like Google Analytics and Cortex can help you get insights into your audience's behavior. By using that data, you can find out what kind of content your audience is looking for and then optimize your content creation strategy accordingly.
3. Automate your email marketing campaigns
About 73% of marketers consider email marketing to be crucial to their company's success.
But it can be a time-consuming strategy. If you're short on time, there is a way out – automate your email marketing campaigns. Not only can it help you save a ton of time, but it can also help you create more personalized content.
With this strategy, you can ensure that your content is delivered to your customers at the right times.
For instance, if a customer has abandoned their cart, you can send them a reminder to complete the transaction.
Here's an example of how American technology company, Fifty Three, notifies their customers about abandoned carts with an appealing message.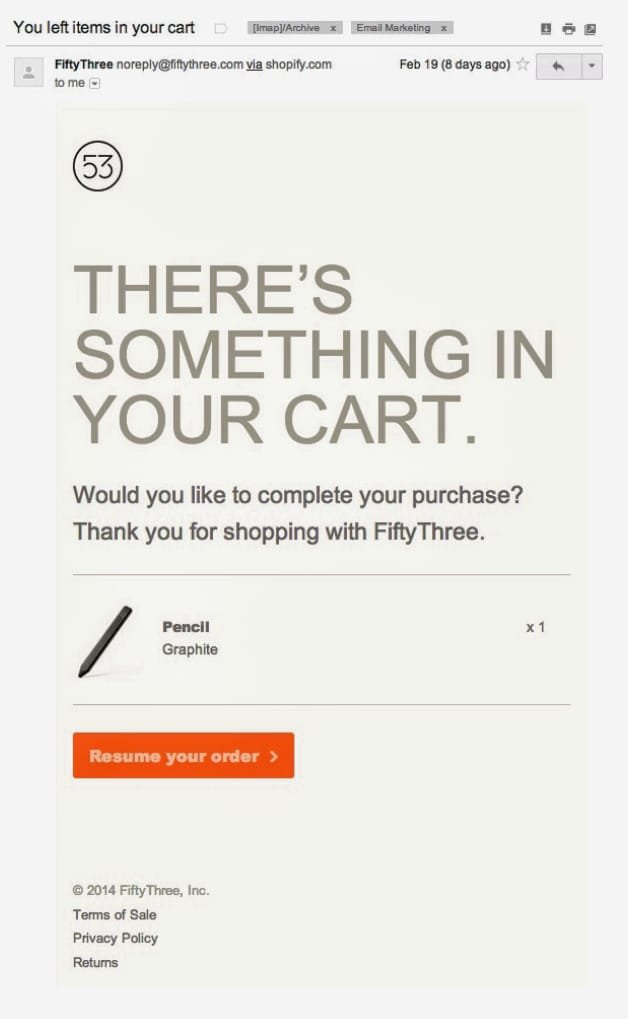 Source: Shopify
Sales persons/Marketers regularly use these kind of emails to encourage their customers to get closer to make a purchase.
Emails serve you with a great chance/opportunity to uplift your product sale.
For example:
An email that contains a division which containing products similar to a user's past purchases can launch their engagement to make a purchase.
Email automation saves the time and efforts that are otherwise invested into following up with each action of a user. It also reduces the potential for errors such as hitting the send button prematurely when the user might not be ready.
4. Build a community
Building a community around your brand will help you improve your brand awareness, drive higher engagement, and organically boost your SEO.
When users create and share content around your brand, you are likely to get noticed by search engines. Brand mentions, post shares, comments, and likes — all of these help your cause.
And, holding a friendly community of followers also helps increase the strengthen your branding and promote sales.
At the time you willing to share valuable content that helps your target Clients or aligns with their interests and interested products, they tend to associate more with your brand and become loyal customers.
having a brand ambassadors who regularly create content for them in return for benefits such as free products, invites to product launches or other events bring a huge advantage in promoting the firm.
An example of a community is "GoPro", an action camera company which has solidified its position in the market by building a strong community of sports enthusiasts, photographers, and adventurers interested clients around the world.
As brand builds personal and a professional relationships with their clients while maintaining a focus on its clients of sports enthusiasts.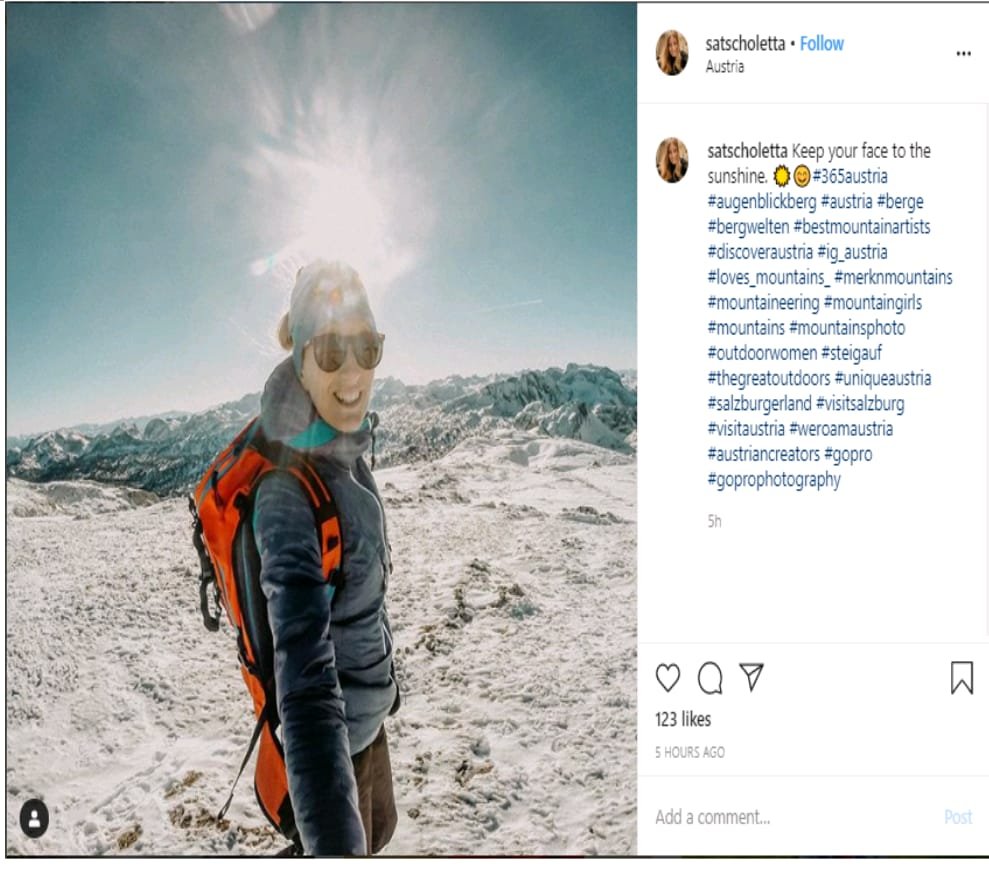 Source: Instagram