Understanding how to use 301 redirects is an essential SEO skill.
That is the focus of this guide.
Make sure to read all the way to the end because I'll show you two of my favourite 301 redirect strategies (that create fantastic results).
Let's get started:
What are 301 Redirects?
A 301 redirect is a status code that informs search engines that a permanent redirect has been implemented.
When search engines notice the 301 status code, they will delete the previous URLs or domains from their index. As a result, search engines will consider the new domain or URL to be the permanent new site.
The question now is:
Do 301 Redirects Affect Your Google Rankings?
The quick answer is yes.
301 redirects can have a beneficial or negative impact on your SEO performance in terms of technical, content, and link development.
I'll go over everything in this article, but first I need to answer a few questions about 301s.
Do 301 Redirects Pass Link Juice (PageRank)?
I'm not sure who coined the term "link juice," but they do pass PageRank (note: Google still uses PageRank but hasn't updated it for the general public in many years).
According to Gary Illyes, "30x redirects don't lose PageRank anymore."

Gary claims that all 30x redirects (including 301, 302, and 307 redirects) pass 100% of the PageRank.
Should you trust him? Both yes and no.
He's most likely telling the truth, but better safe than sorry.
In the past, 302 redirects did not pass PageRank, therefore it's preferable to be safe and use a 301.
301 Redirects vs Canonical Tags
A 301 redirect moves a page that is no longer visible to the user permanently. When you use "rel canonical," on the other hand, the page remains alive and visible to the user. Canonical tags are only visible to search engines.
With those questions answered, let's get into the technical side of 301 redirects.
Start with an Audit
Screaming Frog SEO Spider is the greatest solution for dealing with all technical redirect concerns. Here's what you should look for:
Check #1 – Find Unsecured URLs
Even if you have an SSL certificate installed (which you should), some URLs may still be insecure. It is critical to 301 redirect non-secure URLs to secure URLs.
The good news is that Screaming Frog SEO Spider makes it extremely simple.
Simply enter your primary domain to begin the analysis.

Then click on "Protocol" and select "HTTP" from the dropdown.

This section will show you all the URLs that are currently insecure.

Make it a priority to fix these.
Check #2 – Redirect Issues
There are two sorts of redirects to handle: 302 redirects and redirect chains.
Find and Fix 302s
To locate 302s, go to the "Response Codes" page and pick "Redirection (3xxx)" from the dropdown menu.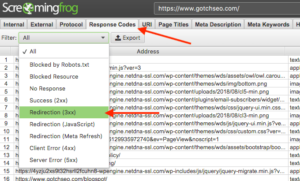 Unless the 302 is being used for its intended purpose (which is a temporary redirect), you should update all 302s to 301s.
Although Google thinks it's okay to leave 302s alone, I'd rather not take a chance. PageRank has been shown to pass through 301s. So stick to what has worked in the past.
Find and Fix a Redirect Chains
The following step is to determine whether the target website has any redirect chains. A redirect chain happens when one redirect redirects to another.
Isn't it perplexing?
So, here's a visual illustration to help you understand:
Finding redirect chains is critical because they may be harming your website's authority. This is due to the fact that link equity (PageRank) must go through one or more needless stages.
All you have to do is discover these redirect chains and then break them as follows: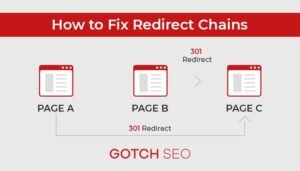 To locate them, launch Screaming Frog SEO Spider, select "Report," and then select "Redirect Chains" to export all existing ones.

Now just go through and clean up all the existing redirect chains.
Check #3 – 404 Pages
You should be concerned about only two types of 404 pages.
An unintentional 404 page
A 404 page that has existing backlinks
The first step is to locate all of your existing 404 pages.
To discover these problems, I utilise a mix of Screaming Frog SEO Spider and Google Search Console.
Click the "Response Codes" tab in Screaming Frog SEO Spider. Then, from the selection, pick "Client Error (4xx)" and export.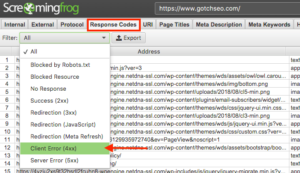 To find 404s in the new Google Search Console, go to "Index," then "Coverage," then "Excluded," and finally "Not Found (404)".

After you've collected all of your current 404 pages, check to see if any of them have any existing backlinks. The Ahrefs (Ahrefs review) Bulk Analysis tool is the best way to accomplish this.
Open Ahrefs, then choose "More," then "Batch Analysis."
Then enter all the 404 page URLs and start the analysis.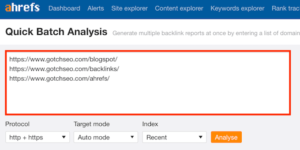 If any of the 404 pages have backlinks, then you need to identify a relevant page on your website.

If you can't find one, redirect the 404 page to the homepage with a 301 redirect.
Those are a few technical ways to use redirects, but I'd want to show you one of my favourite approaches involving redirects and content.
The Cake Technique
Creating several assets around very similar keyword phrases is one of the most common SEO content blunders. This can result in keyword cannibalization, making your SEO effort more difficult than necessary.
This is where The Cake Technique comes in.
In a nutshell, The Cake Technique combines related content elements into a single "Mother" object. Going through this process has numerous advantages, including:
Consolidating assets will automatically improve your word count, which is generally associated with higher rankings.
Deeper content – Dividing your expertise over numerous posts frequently results in thin content. Consolidating your assets has the inverse effect.
Eliminates keyword cannibalization concerns – When two or more pages target similar keywords, Google is forced to chose the best.
Why take the chance? Consolidating similar assets solves this problem.
Consolidates authority – Because you will be 301 redirecting your other assets, your "Mother" asset will inherit all current backlinks. This will transform your "Mother" asset into a conventional powerhouse.
Facilitates content promotion – It is simpler to obtain backlinks and promote a single piece of content. A super resource is more likely to be linked to than a thin content asset. Except for Seth Godin, who is an exception.
Here's an illustration of The Cake Technique:
Here are the steps to executing The Cake Technique:
Determine which content assets target the same or closely comparable keywords.
Determine which content asset will be your "Mother" asset.
Make a plan for combining these content elements into a single piece of content.
Consolidate the information.
All supporting assets should be 301 redirected to the "Mother" object.
Measure the performance of your new asset by annotating your actions in Google Analytics.
I've utilised this method with numerous clients and on Gotch SEO.
In fact, the instruction you're reading now is based on The Cake Technique since I'm now going to show you how to apply The Merger Technique (which was previously its own blog article).
This strategy was also employed a few years ago when I integrated a few distinct assets on the issue of "backlinks."
I had the following blog pots open:
"How to Build Tier One Backlinks"
"How to Build Tier Two Backlinks"
"How to EARN Backlinks" "How to Build Tier Three Backlinks"
Because I was on the verge of keyword cannibalization, I combined them into a single asset (my backlinks guide).
Here are the outcomes:
Let me show you one of my favorite 301 redirect link building methods.
How to Use 301 Redirects for Link Building
Use The Merger Technique
Before I jump into this strategy, you first must understand what a "merger" actually is. Investopedia defines a "merger" as:
"The combining of two or more companies, generally by offering the stockholders of one company securities in the acquiring company in exchange for the surrender of their stock." – Investopedia
When a merger occurs, the old brand's website will get 301 redirected to the acquiring company's website
What is The Merger Technique?
It is the process of 301 redirecting a relevant expired domain to your site.
The objective is to increase your site's authority.
More site authority equates to higher Google keyword ranks and increased organic search traffic.
This method is analogous to a large corporation acquiring another company.
This is how the Merger Technique works.
Why The Merger Technique Isn't Just a "Buzz" Phrase
I named this strategy after my SEO agency's use of it with the large businesses I work with.
One of our clients, for example, acquires data centres around the United States.
As a result, whenever they purchase a new data centre, they redirect the acquired brand's website to their own.
Although these results were fantastic, I wanted to make certain that they were not an unusual occurrence.
As a result, I used the same method on Gotch SEO and several other customer sites.
I took an old marketing website and 301 redirected it to a landing page on it for my site.

I then did the same exact thing for a local website and grew its organic search traffic by 425%: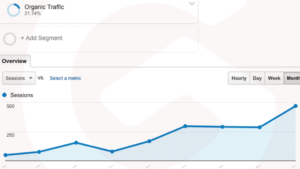 And, if you want something other than my own experiences, I highly recommend checking out Neil Patel's link profile. He's bought a couple businesses and integrated them with NeilPatel.com. Here are the outcomes:

You get it.
301 redirects work.
But, wait for a second…
Not ALL 301 redirects work.
That's why I didn't want to call this a "301 redirect strategy".
The Old 301 Redirect Approach
Using 301 redirects for link building purposes is not a new technique.
But the old way of leveraging 301s is not only dangerous but will likely be ineffective.
The old approach is to take ANY domain with high metrics and 301 it to your site.
There are several reasons why this is a dangerous strategy:
1. The Links Aren't Relevant
Google's Penguin algorithm nails websites with irrelevant, spammy link profiles. By 301 redirecting an irrelevant domain, you're asking Penguin to slap your site.
2. The Anchor Text Isn't Relevant
301 redirecting an irrelevant domain will destroy your anchor text profile with irrelevant anchors.
3. You're Confusing Google
Let's say you're trying to rank a page for "link building". You then go out and find an expired domain about "kitten training" with amazing metrics.
You then redirect this domain to your site because of its metrics alone.
Now you have introduced irrelevant links and anchor text about "kitten training."
This creates the perfect recipe for confusing Google. It doesn't know if your page is about training kittens or link building.
A confused Google = an invisible website in search engines.
The New "Merger" Redirect Approach
Now that you know why the old 301 redirect approach isn't effective, let me show you why the new approach works.
You're Getting Link Relevancy
Relevant backlinks are king. Plain and simple.
In the Merger Technique, you will only be using expired domains with similar Topical Trust Flow Topics to your site.
You want to use Topical Trust Flow topics because it's based on link relevancy.
For example, if you were in the "health" niche, you need a domain with "Health" as its TTF Topic.
Unoptimized Anchor Text
There is a strict criterion for anchor text distribution—more on this in a second.
Why It Works
It works because you're focusing on relevant expired domains.
Relevance is the single most important factor when it comes to effective link building.
Google can detect traditional 301 redirect tactics because the content and links are irrelevant.
The Merger Technique is nothing more than you "acquiring" another business in your industry.
Now let me show you how to actually find quality domains.
How to Find Domains for Your Merger
The first thing you need to reinforce in your mind is to be patient.
You aren't trying to build a network of websites. Take your time, and don't jump on the first opportunity you see.
Second, follow this criterion when looking for a domain to "merge" with your business:
The site should have a Topical Trust Flow topic similar to yours
The site should have a Trust Flow above 15
The site should only have quality links (editorial, earned links)
The site should have at least 20 referring domains (more is better)
The site should have unoptimized anchor text and a high percentage of branded anchors
The site should be indexed in Google (not entirely necessary, but my preference)
The site should not have been used for spam in the past
Use Spamzilla
Spamzilla is now our preferred tool for finding high-quality expired domains for SEO.
Use Domcop
Using the criteria above, you will now go into DomCop and try to find a domain for your Merger. For the demonstration below, I will show how I would look for a Merger site if it were for Gotch SEO.
Step 1: Go into DomCop
Scroll through the list and look for sites with a similar Topical Trust Flow topic to yours. Within seconds, I found one that is relevant to Gotch SEO:
Step 2: Fact check with Majestic
If you click the Trust Flow metric below the domain, it will take you to Majestic. Run the prospective Merger site through Majestic to make sure the Topical Trust Flow topic is relevant, the Trust Flow is above 15, and there are at least 20 Referring Domains:
Step 3: Check the anchor text distribution
You will see in the sample below that 18% of this domain's anchor text is for "FLV player". This is a red flag. Compare this to its branded anchor text which only comprised 3.47% of its anchor profile.
Personally, I would have eliminated this domain after seeing the anchor text distribution.
I will continue on through the other steps to show you what domains you should NOT get.
Step 4: Check the link quality
The steps above will take you no more than a few seconds. Now you have to actually analyze the domain's link profile. Click the "Backlinks" tabs and check out the links:
This is a critical step in the process for you to see.
Remember when I said I would have discredited this domain because of the anchor text?
Well, that would have been a big mistake because the "FLV player" anchor text was natural and coming from quality pages like this one:
With this discovery, this domain would be back on my "good" list.
Then I scroll down and see a foreign anchor text…:
Any type of foreign anchor should raise red flags. But you shouldn't immediately classify it as spam.
Popular websites get foreign anchors all the time because they have global recognition.
That said, you need to investigate the foreign anchor text to ensure it isn't spammed.
Go to the site and use Google Chrome to translate the page:
If you have the Moz bar installed, use it to highlight external links:
After translating this site, I can conclude that it isn't spammed, and there is no reason to worry about the link.
There is a big misconception in the PBN space that a foreign anchor equals low quality. That's not always the case, and that's well demonstrated in this example.
Step 5: Make sure the site is indexed
Grab the URL and toss it into Google:
Uh oh… everything was going so well up until this point. The site isn't indexed.
You should run this check BEFORE doing all the steps above. I just wanted to give you a complete demonstration. It's hard to say why this domain isn't indexed, but there is no point in stressing over it.
Just move on to the next opportunity.
Step 6 (if the domain is indexed): Check the history of the domain
If the domain in this example was indexed, we would want to check its history.
Go to Archive.org:
On many occasions, this site has been used for redirects in an ironic turn of events.
This domain is disqualified because A) it isn't indexed, and B) it's already been used for the purposes we want.
Showing you what domains NOT to buy is the best way to show you what you SHOULD buy. I won't go through another example, but just make sure you follow the steps above.
In addition to using DomCop, you can also look for domains using FreshDrop.
Use Flippa
Flippa takes The Merger Technique to a new level. That's because you can get a relevant domain AND qualified traffic to your site. This is the perfect equation for growing the authority of your site.
You'll need capital to use this strategy, but it is by far the most effective. The only problem with using Flippa is that it's challenging to find domains relevant to your niche (and that follow the Topical Trust Flow topic rule).
With that said, here's what you need to do:
Go to Flippa and search for a keyword relevant to your business:
Follow the same vetting process as above, but with one key difference:
Always verify the domain's traffic because Flippa is plagued with scammers.
Now let's talk about executing a proper 301 redirect (using The Merger Technique).
How to Merge (301) Two Sites
The first decision you'll have to make is whether you want to redirect your domain through your registrar or hosting provider.
A registrar redirect will redirect all the domain's pages to your homepage.
This isn't the best route to take.
Instead:
You should invest in hosting because then you'll be able to redirect on a page-by-page basis.
Here's a simple criterion for deciding whether or not to redirect a page:
Is there a relevant page on your website?  If so, redirect.
Does the page have existing backlinks? If so, redirect it to a relevant page. If there isn't a relevant page, redirect to the homepage.
Don't be afraid to let some pages 404 if they A) have no relevant sibling page to pair, B) they don't have any positive signals (backlinks) or C) they are thin, low-value pages.
To see what pages have backlinks, open up Ahrefs, enter the domain, and click "Best by Links".
One last recommendation:
Don't go crazy with The Merger Technique.
Have extreme vetting standards and only consider the highest quality and most relevant domains. If you do that right, you don't need many "mergers" to see an impact.
That's It!
I hope this helped you learn more about 301 redirects please drop your questions below because I respond to every single one. Thanks for reading.