If there's no rhyme or reason to your social media video marketing efforts, you're not likely to get meaningful results.

After all, it takes more than posting videos on Facebook and Instagram randomly to drive engagement and reach your social media marketing goals. 
You need the best tools and a well-thought-out plan, including following best practices to use videos to enhance and elevate your social media marketing. 
That said, you have to develop a solid social media video marketing strategy to get your expected results.
Continue reading to learn four tried and tested tips to develop your video marketing approach for social media. 
1. Set goals
Your video marketing efforts need a plan to succeed. At the core of your plan are your goals since these help shape your strategy. 
Your social media video marketing goals can include the following:
Boost brand awareness and recognition

Increase social media audience engagement 

Improve customer education 

Raise website traffic

Grow conversions and sales
Establishing your objectives gives your video marketing efforts direction and focus. Your goals help you prepare and determine everything—from your specific approaches to the tools you will use to achieve your objectives. 
For instance, if your goal is to increase social media engagement, your strategy can be posting videos and content regularly to ensure constant interactions with your audience.

As such, you'll need to use a reliable social media marketing platform that allows you to streamline creating and posting videos and other content, such as your interaction posts for social media, seamlessly. 
For example, Vista Social lets you schedule your social media posts for auto-publishing on peak times and dates.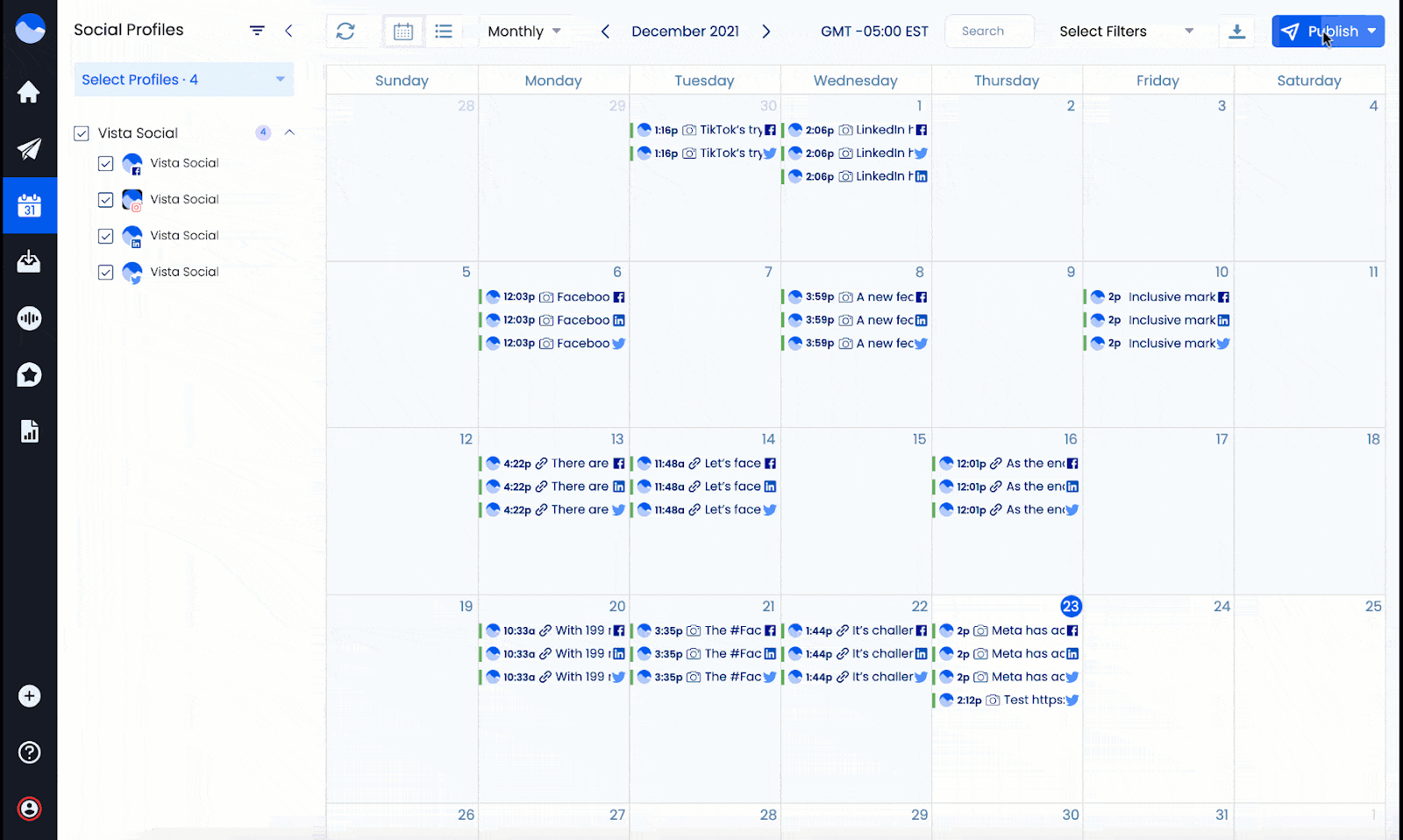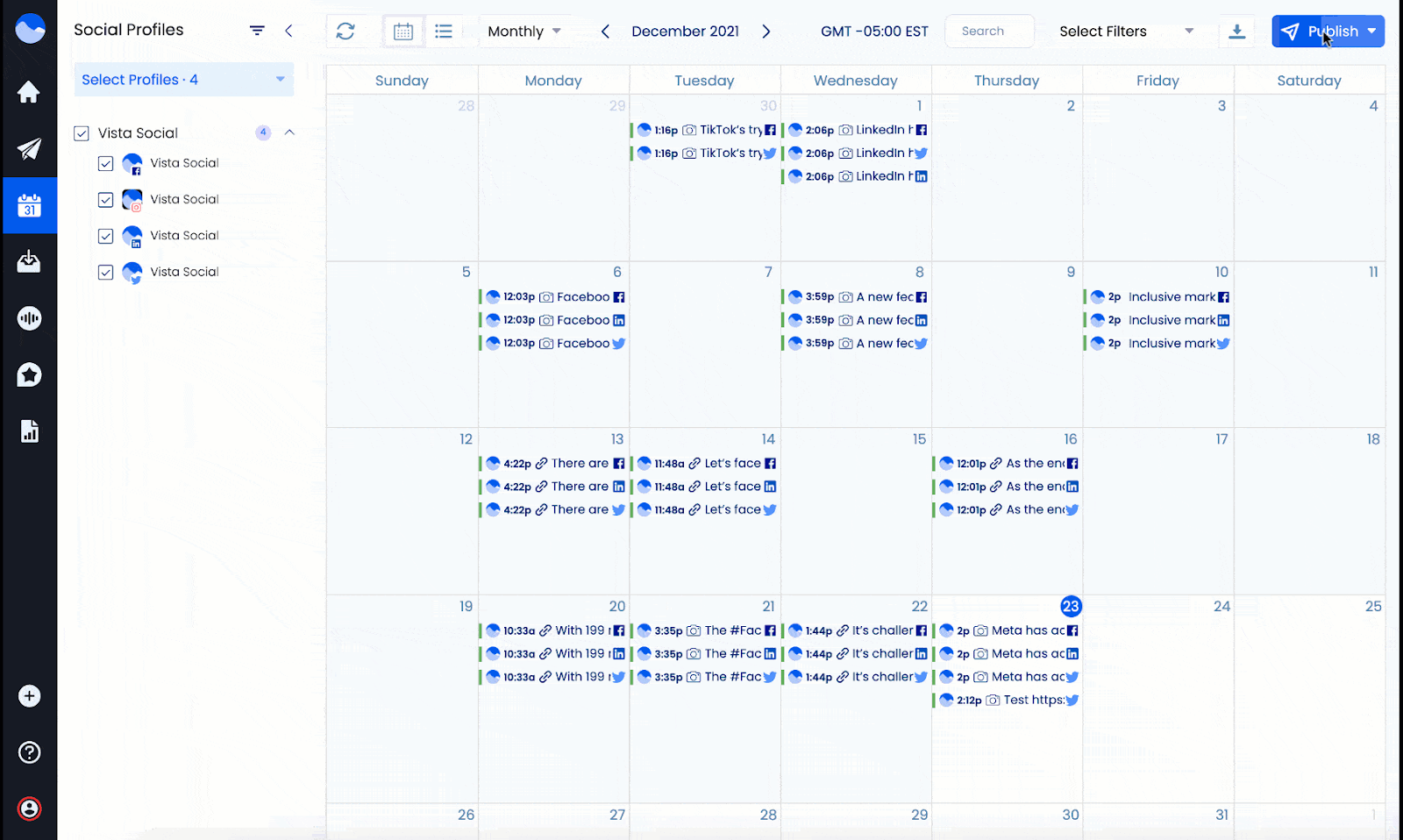 You can also schedule your content to auto-publish in bulk and add them to a queue, so you won't have to manually post your videos and other creatives across your social media profiles. 
You'll save time and energy, focus on writing amazing posts and following reliable content writing tips, and refine your video marketing strategies to meet your overall social media marketing goals. 
Identify your video marketing goals to plan, shape, and inform your strategy.
2. Decide on the video types to use
A successful video marketing strategy doesn't mean creating and sharing all types of videos across your social media pages.

The key is to focus on videos that work best for your audience and brand and support your social media marketing efforts. 
Some of the various video types you can use for social media include the following.
Behind-the-scenes

. Take your social media audiences behind the curtain to give them a peek into what goes on in your product development, daily operations, etc. It's a great content format to help humanize your brand, spark your audience's interest, and form connections with your followers.

Educational

. Share information and offer tips through social media videos. Educational videos can help you engage audiences better while providing them value since these can be more interactive and dynamic than static images and text-based content. 
If you provide Search Engine Optimization (SEO) services, a short video tutorial on how to buy SEO articles can be way more engaging to your Facebook and Instagram followers than a written list.   
Entertaining

. The best part about videos is that they make it easier, faster, and more fun to convey an idea, a message, or a joke than with plain text and images. 
Share entertaining videos that evoke positive emotions from your social media followers, engaging them effectively. It can help convey your brand's personality to potential customers and offer relatable content while building emotional connections with them.  
For instance, BarkBox combines entertaining and informational content into its video by showing what Opey and Opey's human go through to develop a good dog toy.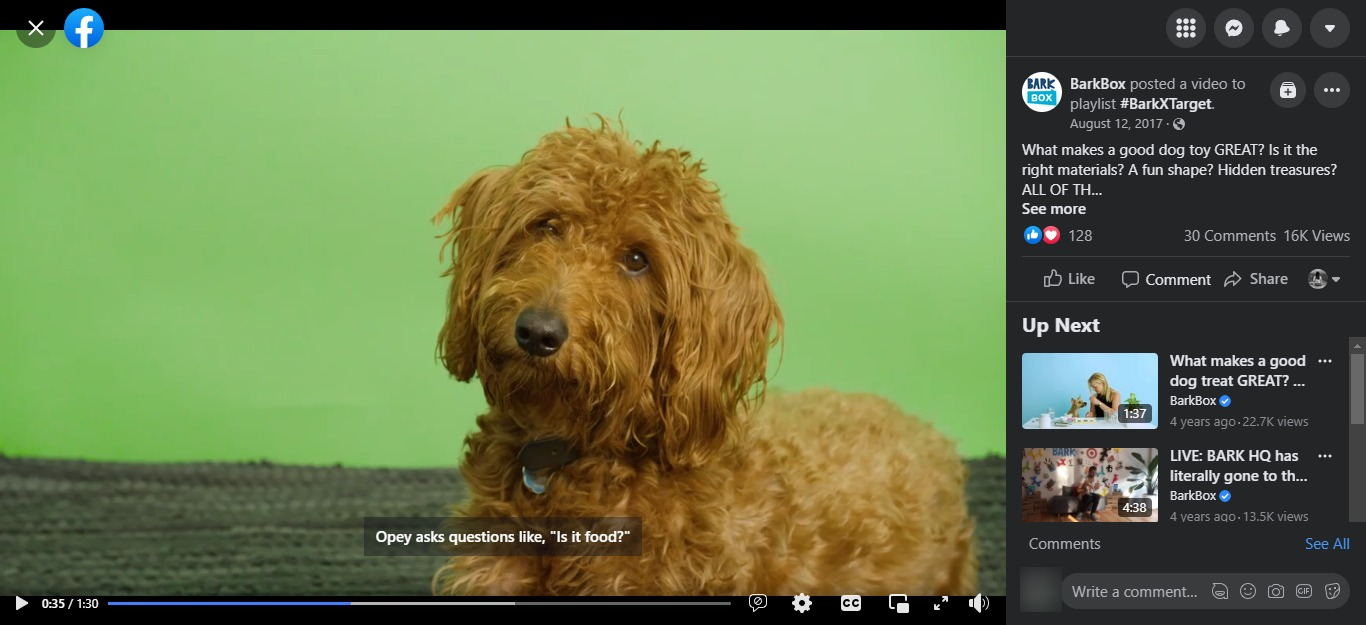 Testimonials

. Videos can take your traditional customer reviews and turn them into more engaging testimonials and social proof for your brand. 
Video testimonials can show your audience's real-life uses of your products or services, allowing your potential customers to see themselves in the video and, in turn, convincing them to buy.   
Determining the types of social media videos you want to use helps you plan and strategize your video marketing efforts for optimum engagement. 
Remember to include your social media videos in your content tracking strategy, regardless of the types you use.
Doing so can help you assess which videos and content perform well (and not well), allowing you to improve them for better performance. 
3. Tailor your videos to each platform
Social media platforms have various content and video format requirements and recommendations. 
Ensure your videos get maximum engagement and support your efforts to achieve your social media marketing goals by tailoring your videos to each platform. 
Ensure your videos follow the recommended formats by knowing the various video specifications for each platform below.   
Instagram in-feed videos
The minimum resolution for landscape, square, and vertical formats is 1080 x 1080

Recommended horizontal pixel resolution is 1920

Supported multiple aspect ratios are: Square is 1:1, landscape is 16:9, vertical is 4:5

Video length should be within 3 to 60 seconds

Recommended primary text is 125 characters, and the maximum number of hashtags is 30

For carousel video ads, the minimum resolution is 600 x 600, and the maximum is 1080 x 1080 with an aspect ratio of 1:1
Facebook ads and organic posts
Recommended resolution is 1080 x 1080

The aspect ratio should be within 1.91 to 9:16 with colored gradient bars below and above videos under 9:16. 

Duration is from one second to two minutes

The primary text limit is 125 characters and 40 characters for headlines 

For in-feed video ads, the recommended aspect ratio is 9:16 to 16:9 (Square is 1:1, Full portrait is 9:16, Vertical as 2:3 or 4:5, and Horizontal is 16:9)
YouTube standard videos
Recommended dimensions are 426 x 240 (for 240p), 640 x 360 (for 360p), 854 x 480 (for 480p), 1280 x 720 (for 720p), 1920 x 1080 (for 1080p),  2560 x 1440 (for 1440p), and 3840 x 2160 (for 2160p).

The standard aspect ratio is 16:9 (YouTube auto adds pillarboxing if the aspect ratio is 4:3)

The maximum video length is 12 hours, and the file size is 128GB 
Leverage user-friendly editing tools such as Boosted by Lightricks to simplify creating your videos.
The app offers ready-to-use templates you can easily customize and resize to fit your social media marketing channels.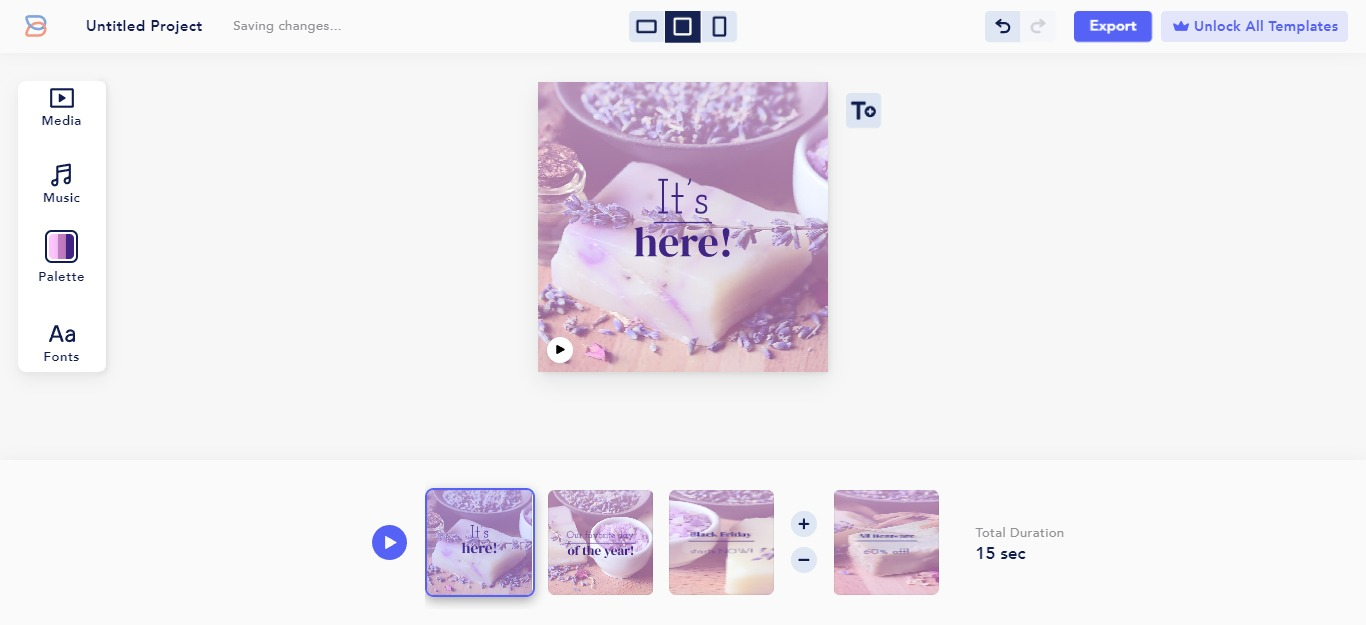 You can even get ideas from handy UI/UX design software about the video formats and features that can provide the best user experience and incorporate those in your social media content. 
4. Outline your content production
Save yourself and your team time and resources (and the potential headache) by developing a video creation or production plan.
If you're not working with a graphic design or video production agency and doing everything in-house, your content production process should include these basic steps.
Identify the necessary props, equipment, etc.

Write and edit a script

Storyboard your video idea

Plan your shoot to optimize your filming, time, and resources

Gather the people to feature

Determine your filming location and consider natural daylight and timing

Know the person, department, or agency that will edit the footage

Check for licensed media and materials, such as the background music 
Use robust desktop project management software to plan, organize, manage, and collaborate with your team members on your social media video creation and content production tasks. 
Doing so eliminates the chaos of content creation, allowing you to produce videos and implement your marketing strategy seamlessly.  
Create a winning video marketing approach for social media
Achieving successful social media video marketing doesn't happen overnight, but you can set your efforts up for success with a solid strategy. 
Take inspiration and learn from the time-tested tips in this guide. Use these to develop your video marketing strategy to help achieve your social media marketing goals.