5 Lead Generation Strategies for Building Material Manufacturers to Boost Sales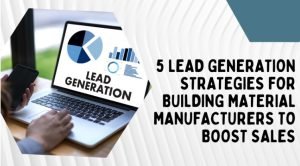 As a building material manufacturer, your primary goal is to create products that meet your customers' needs. However, you may miss out on potential sales if you're not generating enough leads. That's where lead generation comes in. 
By implementing effective lead generation strategies, you can improve your brand's visibility, attract more potential customers to your website, and boost your sales. So, whether you're a seasoned marketer or just getting started, read on to learn more about how you can generate leads and drive sales for your building material manufacturing business.
A Thorough Understanding of Your Target Audience
Material manufacturers require marketing to reach their target audience. Usually their target audience includes B2B consumers that are looking for tools to improve their business efficiency. Architects are one of them, so it is important to take into account their characteristics. Architects are specialists in design and construction.
They place a premium on quality, durability, and aesthetics. Understanding the needs of architects is crucial for selling to architects.
Architects value tools and services on complex projects that simplify and accelerate stakeholder communication. Thus, selling to architects necessitates positioning your products and services as instruments that will assist them in achieving their objectives.
Address the specific requirements of architects in your marketing. You can increase conversion and foster long-term relationships with this audience by demonstrating that you understand their pain points and providing solutions that align with their objectives.
The Best Lead Generation Strategies to Boost Sales of Building Materials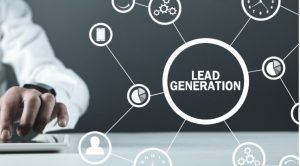 Content Marketing
To generate effective marketing strategies for building materials, building material companies should create informative and engaging content to inform their target audience about their products and services. Providing useful, relevant, and instructive information attracts and engages target audiences. Content marketing establishes your company as an industry thought leader, generates audience trust and drives profitable consumer action.
Content marketing may help to build material producers, educate their target audience about their products and services, and display their industry competence. By providing high-quality, relevant content, creating material producers may increase website traffic, brand awareness, and leads.
Content marketing for building materials includes:
Blogging: Building material manufacturers can blog about their products and services. A roofing materials producer might blog about the benefits of different roofing materials or how to maintain a roof in different seasons.
Infographics: Infographics can visually present complex building material information, such as durability comparisons or eco-friendly material benefits.
Videos: Videos can demonstrate installation methods or completed projects using building materials. They can demonstrate products, teach, or explain.
Whitepapers: Whitepapers are comprehensive reports on a subject. White Papers on environmental sustainability or cost-benefit analysis assist building material manufacturers in educating their clients.
Search Engine Optimization (SEO)
Marketing building materials require SEO. Your website and content should be optimized for search engine results pages (SERPs) such as Google, Bing, and Yahoo. Enhance your website's SEO to attract construction supplies and specialized product purchasers.
Building material firms should use these SEO strategies:
Keyword Research:

Find out what potential building material buyers are searching for. Create applicable, high-quality content using these keywords and phrases.

On-page Optimization:

Optimize your website's meta titles and descriptions, headings, and content to help search engines comprehend and match it to relevant search queries.

Technical Optimization:

Clean code, fast loading times, and mobile-friendliness are essential. Broken links, the same material, and sluggish loading speeds hurt SEO.

Link Building:

Get backlinks from trusted construction materials websites. Backlinks tell search engines your content is valuable and relevant.

Local SEO:

If your construction material manufacturing business is located locally, you should optimize your website and content for local search engine optimization. This involves ensuring your business's name, address, and phone number (NAP) are consistent across all pages and directories and producing local content for specific areas.
Social Media Marketing
Marketing on social media platforms such as Facebook, Twitter, Instagram, LinkedIn, and YouTube is critical to building materials marketing. Building material manufacturers can increase revenue, audience reach, and consumer interaction through social media marketing.
You can also showcase your expertise through social media and establish your brand as a thought leader. By sharing informative and relevant content, such as blog posts, infographics, and videos, you can provide value to your followers and position your brand as an authority in the building materials space.
Social media can also help create long-term client relationships in construction materials marketing. By responding quickly and effectively to comments and communications, building material manufacturers can build customer confidence. Sharing instructional content on LinkedIn and Twitter can establish firms as industry experts.  With the help of social media, manufacturers of building materials can increase sales and brand awareness.
Email Marketing
Email marketing involves sending subscribers promotional emails, newsletters, and other information. Email marketing may help to build material businesses, connect with clients, advertise new goods, and boost sales.
A targeted email marketing campaign can be used to provide tailored information to specific audiences. By segmenting your email list by consumer preferences, prior purchases, and demographics, you can generate personalized communications that resonate with subscribers and motivate them to act.
Email marketing has a higher ROI than other marketing mediums. According to Business Daily, email marketing is cost-effective for boosting sales and developing your brand. Tracking and analyzing campaigns is made easy with email marketing campaigns. You can enhance your email marketing by measuring open, click-through, and conversion rates.
Trade Shows and Events
Building material firms may present their products, network with industry leaders, and create leads at trade shows. Trade exhibitions and events can help you make your brand a thought leader and learn about the newest building materials, trends, and technologies.
Choose trade fairs and events relevant to your business and target demographic. Create attractive booth displays to highlight your products and expertise. Have knowledgeable representatives to answer questions and engage attendees. Finally, contact prospects and contacts after the event to maintain ties and boost sales.
Conclusion
Using the proper lead generation strategies, firms that sell building materials can increase their revenue. These strategies can help you dominate the construction materials industry and increase sales.
Always test and enhance your lead generation techniques to target the right audience and achieve the best results. With these tips and tactics in mind, you can take your lead generation efforts to the next level and achieve your sales goals as a building material manufacturer.
Also Read : 10 most popular TikTok stars in the world
Also Read : Beauty Parlour Business Plan