Since there has been a huge increase in the number of Digital Marketing agencies in recent years which have further added to the complexity of making the right choice. A critical decision has to be taken as it will be showing a great impact on your online presence and growth. Even a small wrong or hasty decision has high negative effects on your budget and reputation of brand.
Choose the Right Digital Marketing Agency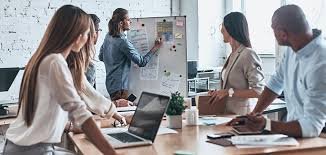 A few years ago, the primary focus of consumers rested on traditional marketing platforms like television commercials, radio advertisements or print media. At that time, launching ad-campaign on these platforms was considered enough. The same does not hold good anymore as the focus of people is no longer just bound to traditional media alone but has spread across a variety of platforms. Marketers have to think of innovative ways to pull the attention span of the target audience and a good digital marketing agency can do it effectively and take your business to new heights.
Leads to select a Right Digital Marketing Agency
Have A Clear Understanding Of Your Marketing Needs:
The foremost step before you begin to advertise is to have a clear understanding of your marketing needs. One's ability to acknowledge your core marketing needs and to express them completely while you hold conversations with prospective agencies will be highly helpful for you to make the right choice. Here one should have a clear idea about one's website, search engine optimization, social media requirements, other advertising campaigns etc. at the same time; one should also have a proper idea about your budget. Even though there can't be fixed figure as marketing is not a product but it should be reason enough.
Hence some important soul-searching is essential as till the time you know what one really want, you won't be able to make out if you have found the right choice once you found it. If one's marketing needs are diverse than you should look for everything under one roof.
Be Transparent And Look For Same:
Business and a digital marketing agency should maintain healthy transparent relationship between as it stays for life otherwise leads to trust issues. Thus, there should be no room for lack of transparency. It must be the underlying factor on which you're dealing with . You should thoroughly search the website of the agency, their achievements, and credentials. And some past successful stories or ongoing campaigns of a firm which is running under you usually acts as a great assurance about the credibility and potential of the agency.
Don't Compromise On Credibility:
Digging deep into the website of the agency to ensure the credibility and past experience of the firm. refer the testimonials of the clients. In case you had sensed anything/something wrong with the testimonials like they are framed, then you should not hesitate to ask for references of the clients possibly also from the ones with which the partnership of the agency did not go so well. A candid conversation with the latter will give you are the fair idea of what did not work well for them. You should not be surprised at the amount of information you are able to get about the agency and another kind of suggestions from them, once you call them. Calling is a much better idea than emailing them.
Check for Previous Experience In The Industry:
An agency which is having a previous experience in the industry you work in, it can be both a positive and a negative. The Positive thing is that agency will have a thorough understanding of the industry and will be well acquainted with the challenges which are prevalent in the same.
And on the other hand, if the agency does not have any such experience you should frankly and elaborately ask how it will approach a new industry, i.e. its strategy and plan of action. You can also ask how long it will take to get comfortable with new market and settings as it is essential for it to carry on marketing activities with ease. A good agency will invest suitable time and energy to study the specific needs of your business, its online stature with respect to your competitors and devise a strategy which will best fit your needs and long-term aims.
Look For Long-Term Partnership Traits:
Once you have boiled down to a list of most eligible agencies who can be possibly hired for the job, you have to sit back and calmly weigh all aspects of the same. In case there is any particular agency which scores higher than the rest on a set of parameters listed above, you have to then analyze the persona of the agency and the kind of people who will be dealing with you. This action results you with a rough idea about what kind of relationship you will share with the agency and does it resonate with your basic intent and the values of your business.
Be Honest:
Being honest while hiring an agency and not bloat your traffic and revenue figures to make a false impression is the most important thing. If anything like that happens there may be chance which ruins your market search and also the strategy of the agency if hired. being brutally honest with your agency and telling them correctly about all the facts and figures in addition to your needs and expectations for them to work out a clear and plausible marketing plan for your business gives a better result.
Characteristics of a Good Digital Marketing Agency
• Data Transparency
• Value Leads, Sales and Conversions
• Use of In-Date Tools
• Well-versed with the Latest Buzz
• Study their Partners